"
When I was growing up, I always wished I were from someplace more interesting, like Big City, or Paris! But the truth is, I'm not.
"
Gloria Sato[1] (Japanese: グロリア・サトウ, Guroria Satō) is a main character of Big City Greens. She is a former barista at the café next to the Greens' house, who aspires to go to Paris, and often has to deal with Cricket's shenanigans, but soon they become friends and co-workers. As of "Chipocalypse Now", she now resides with the Greens and was unemployed, but she eventually manages to open the Gloria + Green Café in the Season 2 Finale.
Appearance
Physical
Gloria is a tall, slim young woman who has light purple skin, and blue hair.
In "The Van", it is revealed that she has put on some weight due to the depression which ensued due to her unemployment though she appears to have lose the gained weight by "Gloria's Café".
Attire
She wears a pink t-shirt, purple pants, and black slip-on shoes. She also wears her hair in a ponytail.
When working at Big Coffee, she wore a brown hat and apron over her clothes, just like all Big Coffee employees. This was repeated with her Wholesome Foods attire, but with a green apron instead of a brown one.
On special occasions (Paint Misbehavin' and Valentine's Dance) she'll dress up nicely. She has a red vest, a pinkish skirt, orange-brown sandals, yellow earrings and a black hair tie instead of her usual pink one for the art gallery. For the Valentine's dance, she wears pink dress, with a white lace in the middle, black heels, white earrings, and her usual pink hair tie. For the open mic night, she has a black sweater.
In a photograph taken with her parents sometime before she left for Big City, she had a turquoise vest and jeans.
In season 3, Gloria is going to have her hair down.
Personality
Gloria is a hardworking, though very stressed, café barista. She gets irritated with the Greens when they mess up her café. Already quite stressed due to the load of her job, Gloria can quickly lose her patience, especially when it has something to do with Cricket's shenanigans. However, she can stoop to Cricket and Tilly's level of childishness such as when she stole their critterballs out of spite and eventually started playing with them before almost getting fired by her boss ("Critterball Crisis"). Once Cricket begins to work at Big Coffee, she is still somewhat annoyed by his antics, but has cooled down and has developed something of an older sister attitude to the boy.
Gloria dreams of making enough money so that she may see Paris, which she has a romantic view of to the point of Paris Syndrome and is why she doesn't want Cricket to jeopardize her dreams. She has an artistic side, as revealed in "Paint Misbehavin'", and has dabbled unsuccessfully in abstract art.
She is also very stressed and uncertain. When she describes projecting her feelings in abstract art, she says that she has "Hopes and dreams and failures and insecurities and emptiness and loneliness and darkness and endless trying to no avail and dreams being crushed...", showing just how down and depressed she can get.
Abilities
Talents
Determination: Wanting to pursue her dream of moving to Paris, Gloria shows a determined side to her, even when unemployed. This strong determination of her's, having to make do with her current situation and working with the family she once despised the first time she met them, has led her to a successful start.
Influence on social media: Gloria is a potent user of social media, and is somewhat famous on social platforms. Because of this, in "Sellouts," she is able to save the Green's stand by helping advertise what they're selling on her account, which was previously struggling to get any sales at all, even getting people from different cities to come over to buy from it. Within no time, the stand completely sells out, with Gloria genuinely feeling proud of herself afterwards. However, in "Ding Dongers", this is subverted due to Gloria, having no knowledge of current trends, passing down her phone to Tilly (who soon foresakes it presumably for good). It is currently unknown if she will get another phone.
Acting: Having taken some theatre classes ("Flimflammed"), Gloria is capable of acting out different characters. This skill results in her successfully getting her money back from a con artist, who had previously scammed Cricket, and attempted to once more after Cricket tried to con him back for the first time he did it to him and in attempt to make it up to Gloria for scamming her, as well.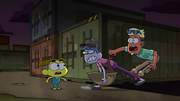 Fighting skills: In "Coffee Quest", Gloria shows an athletic side of her, spin-kicking Chip Whistler into a nearby crate. She attributes this to tae kwon do classes. Later on, she kicks the bean bag into Chip's face, a talent she learned from youth soccer. In "Chipocalypse Now", it is revealed she has a purple belt.
Agility: In addition to the abovementioned fighting skills, Gloria is also somewhat agile, being able to run quite fast.
Weaknesses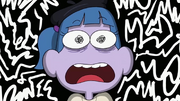 History

Click here to view the history of Gloria Sato.
Relationships

Click here to view the relationships between Gloria Sato and other characters.
Sightings
Foreign voice actors
Gallery

Click here to view the gallery for Gloria Sato.
Trivia
Her main goal in life is to move to Paris; she had a model Eiffel Tower to remind her of it until Cricket accidentally broke it ("Critterball Crisis").
She went to art school for 4 years ("Paint Misbehavin'").
She knows Taekwondo and took Youth Soccer, hence her athletics she had shown in her quest for the coffee bag ("Coffee Quest").
She, like Cricket, loves Parade Day, but she never got to see it because it is also the busiest day in Big City; that is, until Cricket allowed her to see it for herself for the first time ever ("Parade Day").
She has a parakeet that doesn't love her ("Paint Misbehavin'", "Homeshare Hoedown")
She has been employee of the month 3 months in a row ever since Cricket started working there, until Tilly usurped her (Tilly willingly sacrificed the title for Gloria) ("Cricket's Shoes"). This position is permanently revoked due to Big Coffee closing; just prior to its closure, it is unknown if she retained her employee of the month title.
In "Coffee Quest", she revealed that was from the suburbs similar to how Cricket and his family came from countryside.
Gloria seems to have an unhealthy obsession with Ice Cream, as evidenced by her eating some in "Homeshare Hoedown" and her parrot telling Cricket that she ate a whole box in one sitting again in "Coffee Quest".
Chris Houghton revealed that her last name is "Sato", and mentioned that it would be mentioned on the show in a future episode. Her last name would be revealed in the episode "'Rent Control", as Gloria's parents' surnames are "Sato" (which would be released in 2021 instead of 2020).[1] "The Room", also released in 2021, is the first episode to confirm her full name, appearing in a short interview segment, and "Gloria's Café" is the first episode to have it be spoken.

Due to this, Gloria's full name, for the longest time, was left unrevealed in an episode for over a year.
Based on her surname and voice actress, it can be assumed that Gloria is Japanese-American.

In "'Rent Control", her parents are capable of speaking Japanese, so she may be Japanese-American.

Inspiration for Gloria's character:

Chris Houghton described Gloria as the personification of the phrase "wherever you go, there you are," as her love of Paris can only be possible based on how she views Big City: a large and loud place full of weird people.[2]
Her hatred towards Cricket is somewhat similar to Squidward Tentacles' hatred to SpongeBob SquarePants in the series of the same name.
She has the same voice actress as Sasha Waybright from Disney Channel's 2019 animated show Amphibia.
Gloria is somewhat similar to Candace Flynn from Disney Channel's 2007 animated show Phineas and Ferb, Lori Loud from Nickelodeon's 2016 animated show The Loud House, and Bitzer from CBBC's 2007 stop motion series and franchise Shaun the Sheep

In the way that Candace, Lori and Blitzer can act condescending to younger people, and is known to be bossy and somewhat ill-tempered (to Phineas and Ferb for Candace, Lincoln and Clyde for Lori and Shaun for Bitzer; and Cricket and Tilly (especially Cricket) for Gloria), but genuinely love said people deep down.

"Uncaged" is the only double-length episode where Gloria did not appear.
She was strangely not seen in the promo for "Chipocalypse Now", despite appearing in the previous episode and the fact that half of Elkins Street revolves around her. She is also the only main character to not appear on the promotional poster on Twitter, with her position somehow taken up by Vasquez.

This may be to hide the reveal in the episode that Gloria decided to take up a job at Wholesome Foods.

In "Space Chicken", her voice was a bit high-pitched and sounded athletic, in later episodes, her voice got progressively low-pitched and sounds more attentive.
She is the only main character other than the Greens who has yet to sing a single song on the show.

However, her voice actress sang as Sasha (Anna's other role) for Amphibia's second Theme Song Takeover and the Amphibia season 2 episode "Battle of the Bands".
Although Gloria currently hasn't been seen wearing her hair down in the series (with the exception of her fantasy self in "Critterball Crisis"), she has been drawn with it that way by some crew members, being depicted as much shorter than shown in the fantasy.

There was also a conceptual sketch made of her wearing it down with a backwards cap for when she moved in with the Greens at the end of "Chipocalypse Now," but it never made it into the final product.

It should be noted that it can appear to be down at a glance in "Green Christmas," but it also resembles two pigtails, different from her usual style. Since we never see Gloria's head from behind in that episode, however, it can be difficult to tell which one it is.
References