Zillon Brax is a character in Big City Greens. He is a tween pop star who shares an uncanny resemblance to Cricket Green.
Physical Appearance
He carries the same exact appearance that of Cricket, except his hair is a darker brunette and with his hair gelled and slided on one side of the head, and does not have Cricket's bucktooth, instead going for a solid tooth strip which differs than the others whose are bumpy. He also wears two hoop earrings on both ears along with small blue diamond earrings.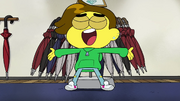 Prior to his disappearance, he wore a dark navy blue jersey with white cuffs, and a gold chain with a "Z" charm, though when hiding and hanging out with the Greens he switches to a light green zipper hoodie. He also wears light blue jeans with rips in the knees, and white sneakers with pink lightning bolts.

History
In "Impopstar", Zillon declares that he is tired of fame and wants to live a normal life. He subsequently disappears from the public.
Later, at a store dedicated to luxurious umbrellas, Zillon spots the Green family. Bill Green, Cricket's father, mistakes Zillon for Cricket, asking him to come with them; seeing this as an opportunity to live a normal life, comes to the Green's House.
Meanwhile, in Zillon's absence, Cricket and Nancy Green decide to exploit the former's uncanny resemblance to Zillon to experience the joys of fame. While Nancy tells him to stop, Cricket declares that he will always be Zillon, attracting several fans who are overjoyed to see him. He manages to escape them, but an arm pulls him into a room, decorated with strange things like beheaded mannequins. Amaryllis continues to terrify Cricket, making him sing Zillon's "Baby, I Could Buy Your Dad".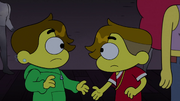 Back at the Greens' house, Nancy rounds up the Greens, Zillon and Officer Keys to rescue Cricket. They arrive at the warehouse, where Cricket and Zillon meet for the first time. Zillon decides to go back to his celebrity life, announcing his new album which "drops October 12th".

Known discography
"Baby, I Could Buy Your Dad"
Trivia
He is a parody of teen idol singers and boy bands of the late 1990s and early 2000s.
Community content is available under
CC-BY-SA
unless otherwise noted.